Original Mode 1 Version of the Battle Mode

As I stated earlier, I didn't wanted to create such a big game. I just wanted to write the four player battle mode and nothing more.

Since I wanted my game to be longer and more fun than the Amiga game "Dynablasters" - of which I thought that each round was too short and offered too little time to make use of the collected firepower - I started out to create the game in the four color Mode 1 of the Amstrad CPC. Additional to the graphics that was shrinked in size as well as in color I expanded the playing arena to a whooping 31 by 19 squares so that it would take the combatants longer to meet and give them more time to collect valuable extras to improve their firepower and give them special abilities.

The basic two extras that randomly would (or wouldn't) show up after a background bock was bombed to ashes were a single bomb, which added one more bomb to the total amount of bombs you could ignite in a row, or a single fire, which expanded the size of your explosion by one square.

Additionally to that there was the random extra, which bore the icon of a questionmark. This questionmark extra either gave the player supernatural power or cursed him with negative features that would hinder him or endanger him through its very nature.
Battle Mode adapted to 16 colors

The supernatural power to be gained from this extra included extra speed, so that the player was able to move with twice the speed as the other players, Megablaster, so that the explosion of the players bomb would reach all across the playing arena and finally invisibility, which would render the player invisible (all but his eyes would disappear from the screen), so that he could sneak up on others and bomb them to death from behind.

But besides these three incentives there are a number of drawbacks that you could also gain from this extra, including autobomb, which would make the player drop all his available bombs in a row for a limited amout of time, no bomb, so that the player cannot drop any bombs at all, small bomb, which makes the explosions of the player cover just one field in each direction, thus effectively incapacitating him, slow down, so that the player would move with half the speed as regular and finally reversed control, which does just what it says, reverse the control, so that up is down and left is right and vice versa.
Player with small bomb questionmark extra

Once a player had picked up such an questionmark extra he would be able to use it (or would be punished by it) for a limited amount of time. If he touched some other player (or was being touched by another player) he would infect the other player with this extra, so that this player would also be blessed by its power or would suffer from its drawbacks.

In contrast to the original Bomberman (and also to the Amiga version Dynablasters) I switched from a life based system to a energy based system. In the two other versions of this game your character was killed by a single hit, in my version the characters could take 4 hits before they died (actually the number of hits they endured was adjustable from 1 to 16, but the default setting was 4). I wanted the players to get more fun out of the game by surviving several hits, so that they did have some time to retaliate the loss of energy.

One thing that I had learned from the demonstration of my battle mode at the GOS Party 4 was that the playing area I had designed was too big. It took way too long for the players to blow away all those blocks that separated them from one another. I was obviously too enthusiastic with expanding the playing area, so I had to reduce it. And since I wanted my game to become a commercial success (after the meeting with Kangaroo) I also thought that the four color screen mode wouldn't be appropriate anymore and thus I reprogrammed the game to run in the 16 color, less resolution screen mode 0 of the Amstrad CPC. Then the game would have a smaller playing field (which was reduced to a mere 19 by 13 squares), bigger and more colorful backgrounds, explosions and characters ... and hopefully be more fun.

Winning screen

In most fighting or other competitive game (e.g. race driving simulations, jet bike simulations, etc.) there is one thing I really hate: long winning sequences, that is texts, images or animations showing the winning player which cannot be interrupted. Often after you have lost a game you want to go right back into it to give it another try and kick the shit out of the player or enemy that had just defeated you. But lengthy ending sequences and winning screens prevent you from living out your frustration and aggression on the other players. So in my game I added an option with which you could adjust the time of the "Player xx wins" sequence, so that you didn't have to wait too long to be able to fight again.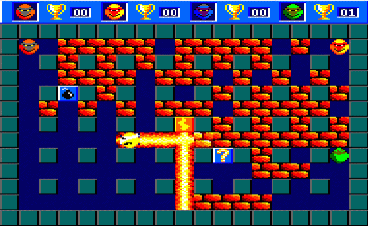 Player 3 gets hit by his own bomb

Besides that I added an option in which the player were able to decide how little or much energy all the players get. You could adjust the energy level from sudden death (that is one hit kills) to 16 hits per player in the steps one, two, four, eight or 16 hits. So that there was the perfect option for any taste. The players just had to agree to a setting, since this energy level applied to any of the four players and wasn't adjustable for each player individually.

But before four players were able to compete against one another on a single CPC at the same time a another small problem needed to be solved first: the Amstrad CPC keyboard clash.

After I had solved that problem as well the battle mode had become exactly what I had always wanted it to be: great fun for up to four players!

Just recently (summer of 2003) a French friend of mine told me that the Battle Mode is still being played a lot at CPC meetings in France nowadays. I couldn't ever have hoped for more praise than that!

I also strongly believe that the four player mode was one of the main motives that pulled the Megablasters sales upwards. I remember that in one of the last Amstrad Action issues it was stated that Megablasters was outselling "Fluff" (one of the other final commercial games on the Amstrad CPC) despite the price difference of 7£.